Well, you know it has a while since you last checked into your blog, when you find 650 comments in the 'spam' folder! Wow, thank you, blog builders, for inventing spam filters!
Yes, it has been a while, and here is a little peek of the good things that have been keeping me busy …
… some fabric shopping …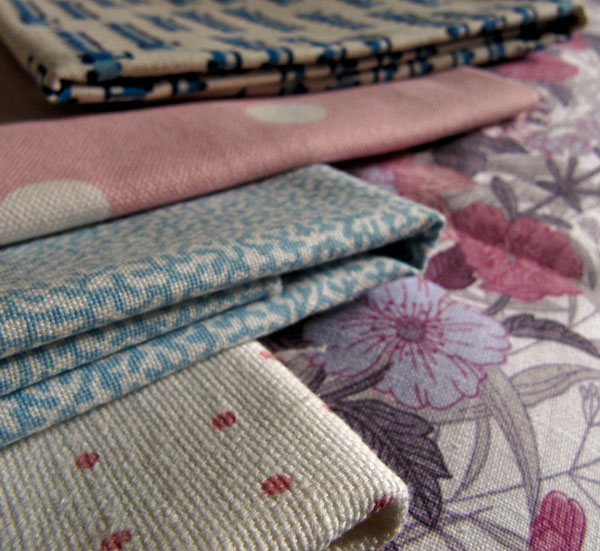 … I found this little bundle of prettiness in a local antique centre, although these all seem to be pretty modern and unused to me, they were certainly a bargain!
I have also been busy at the sewing machine, stitching up a little mountain of fabric baskets …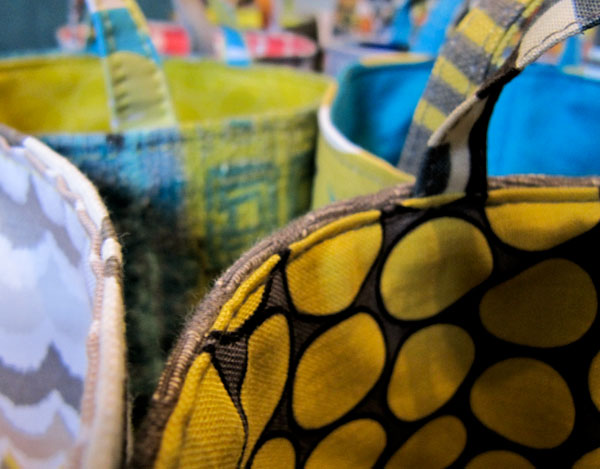 … fifteen of which will be winging their way up the M6 to a lovely gallery where they will be part of an exhibition running from March through to June … more about that in the next week or so!
And in stitching up a little mountain of baskets, I found myself with a growing pile of scrappy squares, which were cut from each basket to make the pattern … and not being one to throw fabric away … I found myself stitching the little scrappy squares into strips …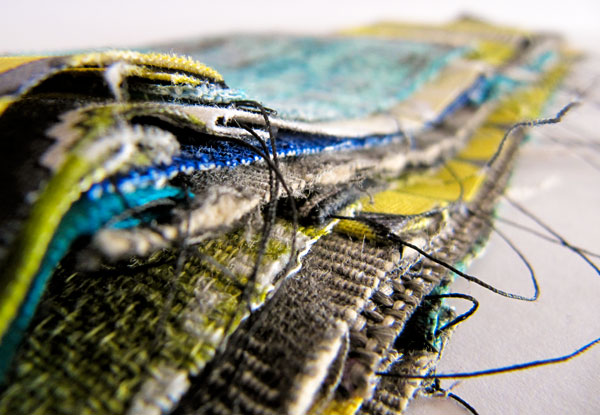 … which look a bit like this …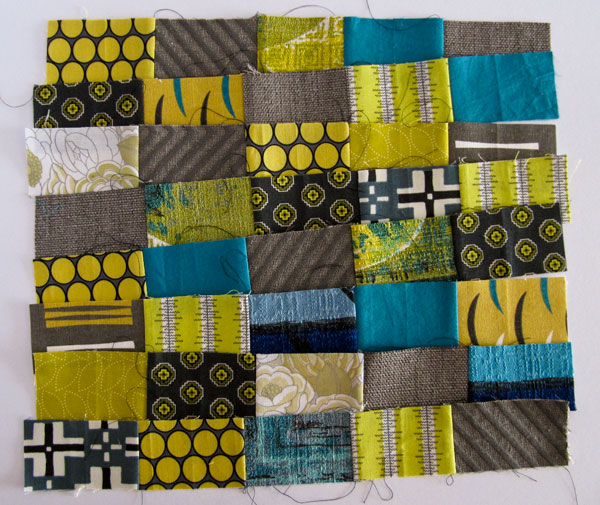 … I am so in love with the whole mustard – teal – grey combo at the moment, these just make my heart sing! I'm not sure yet what they will become, but the combinations of vintage and modern, textures and patterns mean they won't be sitting in the 'to do' pile for too long!
Any ideas?
I have also been lucky enough to have the time to enjoy our local annual film festival …
… especially exciting for me, was viewing Blackmail, a silent film made by Alfred Hitchcock in 1929, which was screened with a live Piano Accompaniment by Stephen Horne … it was full of all the melodramatic glances, and staged poses, held for the camera which silent films are known for, but to have the pianist sitting just metres away, improvising the musical score as he viewed the film, and even throwing in a bit of flute playing for the mournful bits, was wonderful!
Before I leave you, I just want to share a warm welcome with my newest subscribers, thank you for joining this little corner of cyberland … I do usually blog every week, and am very happy to have you here … my recent absence is a mere hiccup.
Wishing you all a lovely weekend. And a very Happy Mothers' Day to all the British Mommas reading.