Welcome, welcome to the first 'feel good friday' of 2013!
As 'feel good friday' progresses through 2013 I will be sharing not just some weekly highlights, but also some of the 'bigger stuff' which helps to bring the feel good factor into my life.
Starting this week!
In yesterday's blog post I promised you that today we would take a little look forward, what I actually want to share is a little ritual which has become a friend of mine as we move from one year to the next … a process of reflection, learning and planning which has helped me over the past two years to become more focused and to find a greater sense of achievement and purpose in my daily, weekly and monthly life.
As the year closes I set aside a couple of hours to reflect on the past year, and to focus on the year ahead … and using the following process as a guide, I make little plan which states some of my key hopes for the year to come …
1. What did I accomplish last year?
2. What were my biggest disappointments?
3. What did I learn?
4. What would l like to be different?
5. What changes can I make?
6. What are my hopes for the year ahead?
7. In which areas of my life would I like to grow?
8. What do I need to achieve these hopes and growth?
9. How much time and energy can I commit to these hopes and growth? Realistically, what can I achieve?
10. Which ten things on my list shout the loudest?
And there I have it ~ my top ten hopes, or aims, or intentions for the year ahead. Throughout this process, I am mindful of what is truly achievable. I know where my energy levels sit, how much time I have available and how much time I want to keep in reserve (for unplanned spontaneity). I also work out a loose plan around fitting the ten hopes into the yearly calendar, this ensures I am being realistic. I want to serve myself, not set myself up to fail. And always, I remain open to change.
It is through using this process over the past two years that I have identified, worked towards and achieved such things as …
~ the creation of this blog ~
~ making my first ever quilt ~
~ adjusting my work/life balance ~
~ completing a creative writing course ~
~ spending more time with friends ~
~ setting up an online shop ~
~ completing some home decorating ~
~ sewing a second quilt ~
… of course, not everything on the list gets done, that is how life works, and that is ok. I can either carry it forward, or let it go, for the previous two years my list included …
~ plant spring bulbs ~
… it didn't happen, and I have let it go, to make space on this years list for something that might happen!
Some of my hopes for the coming year include …
~ complete three more quilts ~
~ complete an Open University English Language course ~
~ exercise at least twice a week ~
~ develop new products for the lemon loves shop ~
… and so the list goes on!
I have found it works for me. I feel very proud of some of the achievements which have come from this process, and I know that without it, without making a plan or a decision, that these things wouldn't have come to fruition. I know this, because I have passed through previous years without a plan, and things stayed the same. And of course, we are all different, but simply by making a list, setting an intention, or asking another person to remind us to do something we are putting energy into our hopes ~ which, I have learned, is a far better place to store it than in our fears!
And just in case you were feeling in need of a photograph …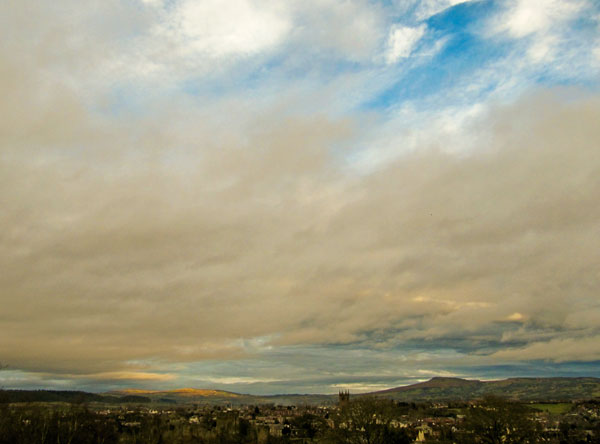 … it's all about stretching out those horizons my friends!
Here's to a purposeful and productive year ahead.